Blue Mounds' Master of Music
by
Barb Rumson
The years have passed but the memory is still vivid.
As we drove our tape deck thundered the music of the great pianist and composer Gunnar Johansen. The music seemed to echo his name, as we left the University of Wisconsin in Madison and headed for Blue Mounds.
For many, many years, it was on this road that Gunnar must have hummed his music. This was his territory.
What was left? Memories? Manuscripts? Tapes? Pianos? Recording equipment? Letters?
What would become of his life's work? Would someone preserve all of this? Or would it be forgotten and be shoved into dark archives?
We drove quickly along the highway. Rain poured down and laid muddy streaks along the side of the road. The sky was dark and dour. As we approached the small village, the clouds had parted and radiant blue sky spread out above.
It was much too early for our appointment with Mrs. Johansen, Gunnar's widow. We decided to get a bite to eat and drove down Blue Mounds' main street searching for a restaurant. There was only one. After we had settled in our chairs a waiter came to take our order. Instead we asked him for directions to Gunnar's home first. His face spread into a wide smile. He asked us why we were interested in Gunnar.
We told him there was a plan to research Gunnar's music. Lorraine wanted to preserve the collections so that the world would not forget.
The waiter told us that Lorraine, Gunnar's wife, had been to the post office a few days before. It seemed that she had a problem with her leg and found it cumbersome to get around. He also said that the neighbours made sure she was all right.
We ate our light lunch quickly as we were anxious to be on our way. When the waiter returned with our bill he asked us to give Lorraine his best wishes for a quick recovery. He gave us careful directions on how to find the house and with a wave and a smile, we stepped out of the restaurant. The blue sky and bright sun were a perfect background for our adventure to discover musical history right here in this small hamlet.
As we approached the turn-off the waiter had described, large trees welcomed us. They hung over the road seeming to protect and preserve the rustic beauty. The road was narrow and unpaved and we drove very slowly. At last, there was a slight opening to our right. There nestled against a cliff was the Gunnar's and Lorraine's house. It looked postcard perfect snuggled in greenery with dots of colourful wild flowers.
We walked up the stone path. The door flew open and there stood an elegant lady in an off-white dress with a gold belt leaning on a cane. Her brown hair shone in the light. Her eyes twinkled as she warmly welcomed us.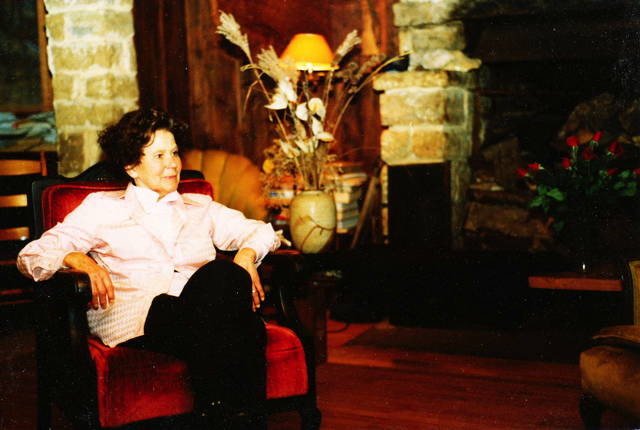 Lorraine Johansen ca. 1990 in Blue Mounds, Wisconsin. © Katie Black 2021.
As we followed Lorraine Johansen in, she pointed out the different rooms in the house. Then she led us to the high ceilinged living room which housed a giant piano with two keyboards.
The French doors were thrown open to welcome the fresh air. The green bushes with their speckled wildflowers made a magical backdrop. This was the setting that Gunnar Johansen smelled and touched and moved in to find his inspiration.
Lorraine talked about Gunnar and his work. She talked of his times of complete solitude. She recalled her times of solitude which allowed him to work. She proudly showed us the his books and countless music scores that lay about, testimonials to a life dedicated to music, learning and creativity.
Lorraine then guided us down to his recording studio which housed his memorabilia fit for a museum. This was where it all happened.
Gunnar Johansen created history here. This was his legacy.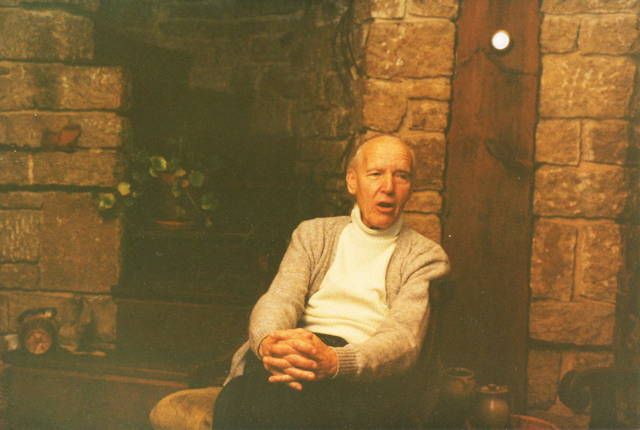 Gunnar Johansen ca. 1990 in Blue Mounds, Wisconsin. © Katie Black 2021.
There was a large poster on the wall of Ignaz Friedman, a renowned and great pianist. In fact the first that Gunnar ever heard when he was a small boy in Denmark. We walked slowly behind Lorraine and stopped to read stray pages and ask questions. She showed us programmes of his radio performances, programmes of his concerts. Tapes and music lay everywhere. We were in a state of awe.
Lorraine took us outdoors and showed us the cliff and the small stream. She showed us where Gunnar chopped wood for the fireplace. This was his form of exercise and relaxation. Behind the house was patio was where they sat on their quite evenings and talked. The gurgle of the brook and the gentle breeze that moved the leaves and tall grass seemed to whisper his name.
We asked about the many types of trees crowding the property. They had been Lorraine's project. Over the years she had planted hundreds of trees.
After much fine conversation we thanked Lorraine and wished her well, leaving her with her memories of the music that once thundered through their paradise, composed and played by Blue Mounds' Master of Music: Gunnar Johansen.
© Barb Rumson 2021
Sample short stories by Barb Rumson
External links
Puddles for All Seasons
Illustrations by My Way in Education
Published by MightyBook, Inc. © 2004
Music Lessons from Long Ago
Classical Music Daily
---